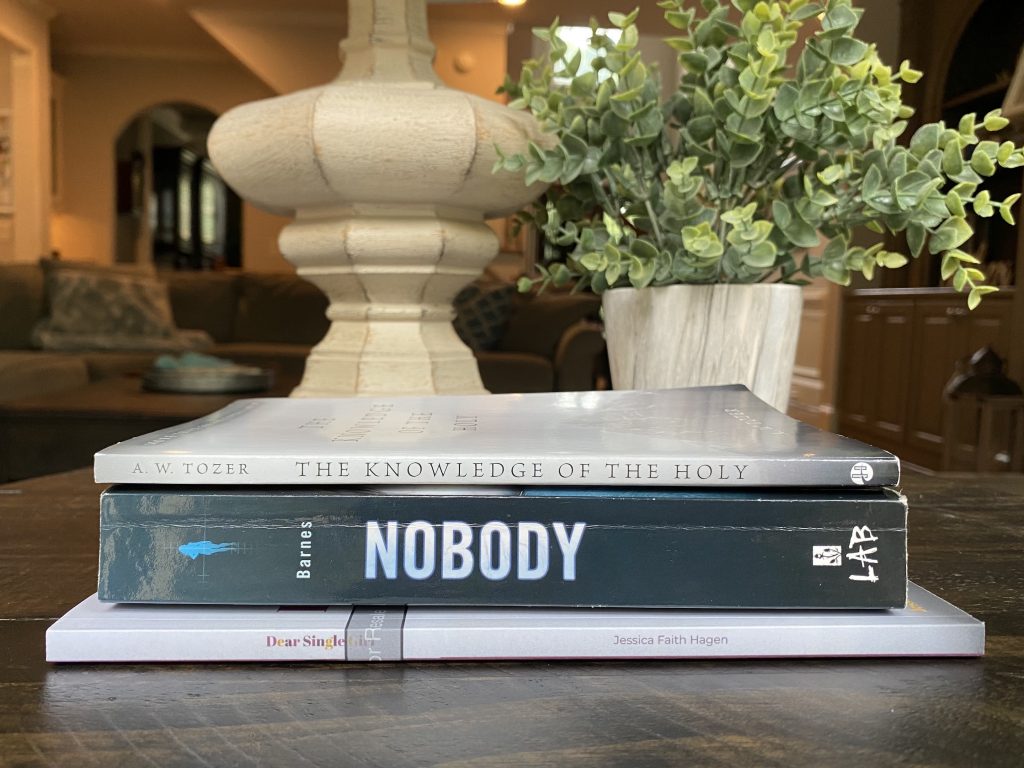 Where did the summer go?
Y'all, it is a little bit embarrassing to just now be posting my May book stack from 3 months ago! But since it's been a crazy summer, hopefully you will cut me a little slack, lol. I have been reading, I promise! And I have actually had this post written for awhile. You won't believe how long it takes me to format a blog post… in most cases, I spend significantly more time preparing to publish a post than I do actually writing it! So, thank you for your patience!
If you get my monthly newsletter, you know I am celebrating the start of the school year and National Book Lovers Day (August 9) all month long! Besides just being fun, it gives me a great excuse to catch up on posting my book stacks from this summer. There will hopefully be a new stack of books and reviews on the blog every week this month, so make sure you check back. And if you would like to be on my newsletter list, make sure you subscribe!
Anyway, here's what I read (way back) in May…
MY MAY BOOK STACK
Nobody by Jennifer Lynn Barnes
I grabbed this YA "thriller" from the local used bookstore on my last trip in. The cover intrigued me and the premise sounded interesting: Nobodies— people ignored by society and practically invisible— are identified early in life and trained as assassins to rid the world of dangerous, evil people. However, if they are not found early enough, they must be eliminated, which is the case for Barnes' protagonist, Claire. Only, it's not that easy… it never is, right?
This book was just so-so. I didn't love it, I didn't hate it; I just read it. It was a little depressing, but I kind of expected that from characters who don't feel like they matter to anyone. It just didn't draw me in as much as I expected it to. Would I read it again? No. But I don't regret reading it either. So there's that!
The Knowledge of the Holy by A. W. Tozer
This small theological classic packs a big punch! I have had this book on my shelf forever and have read bits and pieces over the years, but I finally worked my way through it. Y'all know I value solid theology, but it's not always my favorite thing to read (just sayin'). This book, however, flushes out some really deep concepts with somewhat normal vocabulary, make it much easier for non-theologians (like myself) to understand.
In each chapter, Tozer highlights a different attribute of God and breaks down how we can recognize and embrace it. The overall thread of the book weaves these many attributes together, creating a more complete tapestry of the essence and character of God. This understanding fills the reader with awe and wonder at who He really is, and enables us to be a better reflection of His true glory.
My Favorite Chapter: The Faithfulness of God
My favorite chapter refers to "The Faithfulness of God" (Chapter 15). Tozer explains how every attribute of God harmonizes with the others, maintaining overall consistency. For example , in our current culture, we view justice and mercy as opposites; however, to God, they are mutually dependent. True justice and mercy coexist— God cannot display one without the other. "The familiar picture of God as often torn between His justice and His mercy is altogether false to the facts. To think of God as inclining first towards one and then toward another of His attributes is to imagine a God who is unsure of Himself…" (p. 79) God's character and essence remains the same at all times, for He is faithful.
Tozer continues, "I think it might be demonstrated that almost every heresy that has afflicted the church through the years has arisen from believing about God things that are not true, or from overemphasizing certain true things so as to obscure other things equally true. To magnify any attribute to the exclusion of another is to head straight for one of the dismal swamps of theology; and yet we are all constantly tempted to do just that." (p.79)
He gives an example of how some people interpret "God is love" to mean that His love cancels out His justice, that His compassion negates His truth, or that His sovereignty diminishes His goodness. This particular idea is so prevalent in today's culture! It was a good reminder to me of His faithfulness to His own essence and gave me a more concrete way to tackle this type of deception.
The Be With Factor: Mentoring Students in Everyday Life by Bo Boshers & Judson Poling
I found this little gem when I was looking for books on similar topics to the one I am currently working on. I recognized one of the authors from his role with Youth Specialties back in the day and thought it might be worth reading. It was!
The Be With Factor is basically a field manual for anyone interested in mentoring the next generation. It is extremely practical and is obviously written by people who actually work with teenagers. The authors have decades of experience mentoring teens, and readers get to benefit from their hard-earned wisdom.
If you are a student pastor, you should read this book. Are you a small group leader or a coach or a teacher? You should read this book. Perhaps you have a few teens in your life who God keeps placing on your heart… Yep, you should read this book!
If you are not a fan of teenagers, you can skip this one. But you should also know: you're missing out. The teen years are the best years!
Dear Single Girl Devotional by Jessica Faith Hagen
I had the privilege of being on the launch team for this devotional for one of my fellow hope*writers. Unfortunately, I got COVID the week it launched, and couldn't promote it as much as it deserved!
I wish I had access to this book when I was a young adult. Reading back through old prayer journals, I can confidently say that my college and early adult years were embarrassingly consumed with thoughts about my love life (or lack thereof). I longed to be loved, but also desperately wanted to follow God's will. My heart was not trustworthy; I needed wisdom.
This devotional is awesome for single college girls and young adults. Hagen writes out of her own experience and with such a sweet vulnerability, her readers can't help but be drawn in. Her goal is to help them find their worth in Christ and celebrate their purpose in whatever season they find themselves in, single or not. The answer, she emphasizes, is not claiming your relationship status as your identity; it is surrendering your heart and mind in full obedience to Christ, regardless of your relationship status. That is where joy is found.
I totally agree!
If you're looking for a devotional for a "Single girl" in your life, you should definitely check this one out!
********************
Well, friends, that's what I read in May!
Here are some links to previous book stacks, in case you're interested:
What's on your night stand?