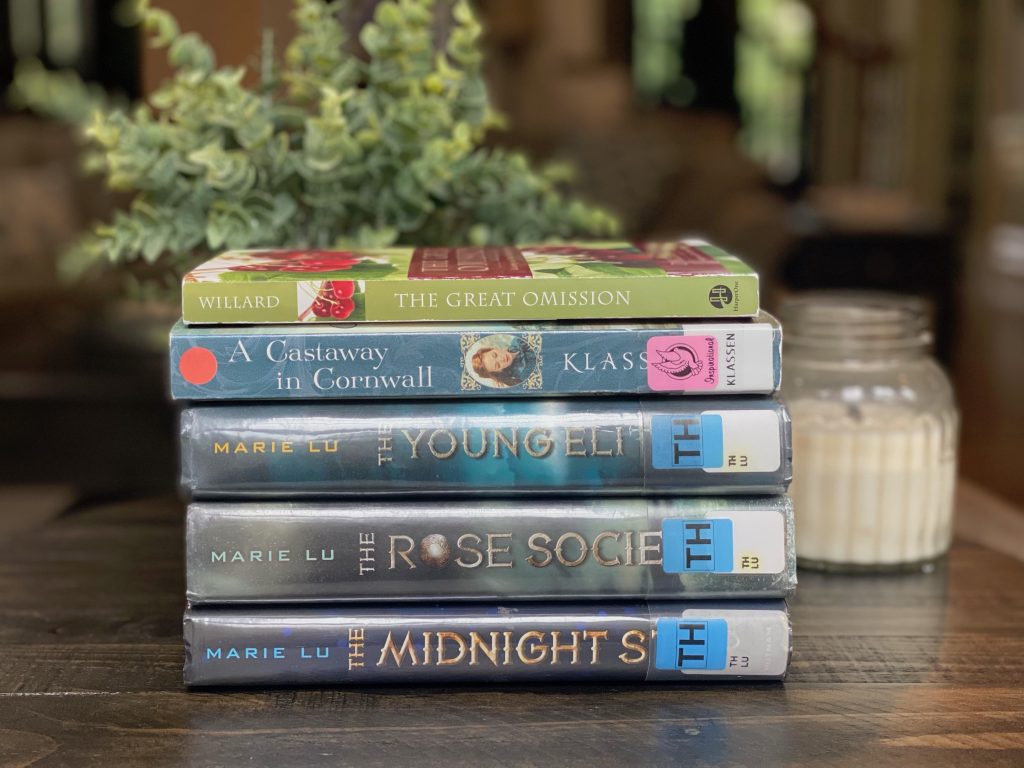 My July Book Stack came mostly from the library. I chose the first one because we were going to the beach, and the rest because I am a sucker for YA fantasy!
As it turned out, we kicked off July with an emergency appendectomy for our oldest daughter, Sarah… Good times! And the rest of the month followed on the crazy train. The good thing about that, though, is it gave me extra time to read.
Anyway…
Here are the books in my July 2021 Book Stack:
A Castaway in Cornwall– Julie Klassen
This sweet, historical fiction story is set in Cornwall in 1812. Filled with mystery, intrigue, and romance, A Castaway in Cornwall kept my attention all the way through! I enjoyed how the author crafted each character, and appreciated the way she wove strands of faith delicately throughout the pages. It's a great "beach read" for fans of historical fiction and romance.
The Young Elites Series by Marie Lu
The Young Elites, The Rose Society, The Midnight Star
I don't know what it is about summer, but it makes me desperate to read YA fiction and fantasy books! While researching potential series, I came across one by Marie Lu and added it to my list. Unfortunately, when I got to the library later that day, it was not there… but all three books in The Young Elites series were! So I quickly added them to my pile and went on my way.
I started reading the first one on the way to the beach and finished it by the next morning. The others followed quickly behind, and then got passed off to Sarah to read. It's fun to share stories with my girl still!
This is a typical YA Fantasy series, so I loved it. The story begins with the aftermath of the blood fever, which has ravaged the land, leaving in its wake tremendous loss… and the surviving children with markings. Some of these children, as it turns out, also develop super powers. Though they are considered evil and undesirable by their community, these Young Elites eventually find one another and form an alliance in an attempt to overthrow a ruthless king. Basically, cross a teenage love story with a marvel movie in an Italian renaissance setting, and you have the makings of The Young Elites.
I liked all the books. It was a little dark, as is the trend right now in YA fantasy, but not too bad. The characters are intriguing (my favorite is Magiano) and the storyline kept me interested. The ending left me a little unsettled. I think Lu should have done a little more to weave some threads of that through the rest of the series to make it more effective. Perhaps she didn't know how she was going to end it until she arrived there? I have grace for that. Overall, Sarah and I both agreed it was a fun series to read.
The Great Omission- Dallas Willard
I have wanted to read Dallas Willard for awhile, as his work has been referenced in several other books I've read. The Great Omission is a book on returning discipleship to its original purpose and intent as taught by Jesus. Willard clarifies in the introduction, "The Great Omission from the Great Commission is not obedience to Christ, but discipleship, apprenticeship, to Him. Through discipleship, obedience will take care of itself, and we will also escape the snares of judgementalism and legalism, whether directed toward ourselves or toward others."
Willard covers Jesus' intent and model for discipleship, spiritual disciplines to help in the process of spiritual formation, and how the combination shapes our character, mind, and soul. He continually makes the point, Grace is opposed to earning, not to effort," which I wholeheartedly agree with. We cannot earn God's love or favor, but we absolutely can put effort into deepening our relationship with Him and our understanding of His word. It is not light reading, so it took me awhile to get through, but I definitely recommend it.
***************
Well, friends, that's what I read in July! Have you read any of these books? I'd love to hear your thoughts.
You might want to check out some of my other book stacks:
What's on your nightstand?