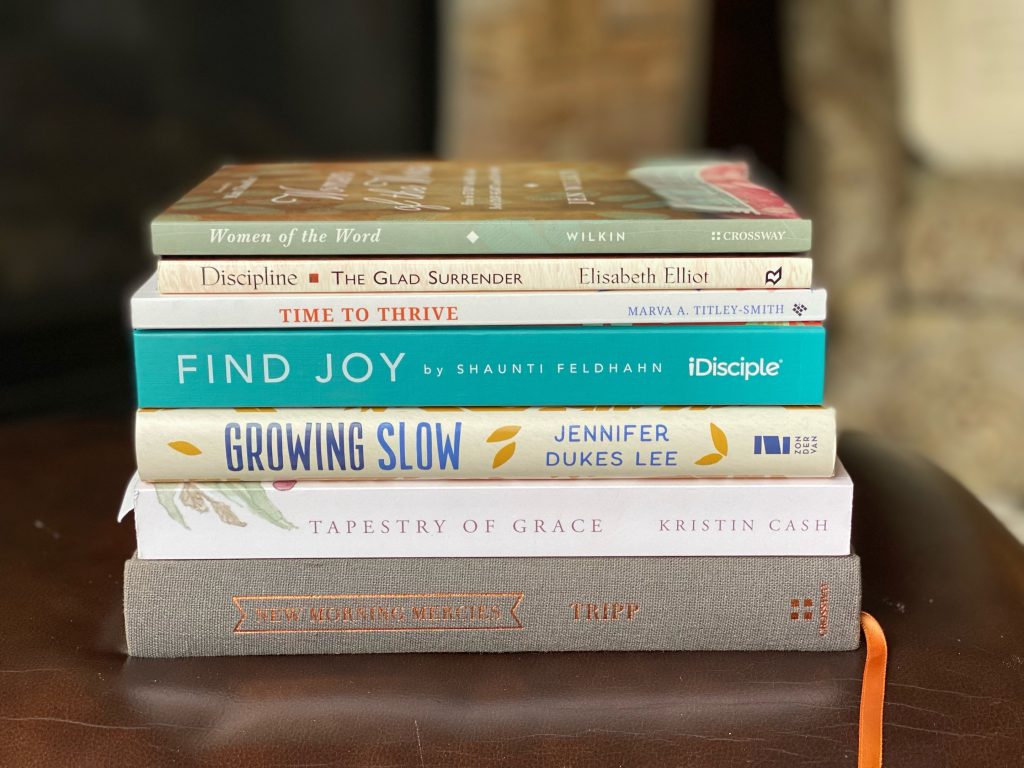 Recently, a friend reached out to me asking for ideas on devotionals that she could do by herself or with a group. As we head into 2022, I thought I would share a few of my suggestions. Here are 12 Devotional recommendations for the new year in case you're looking for some fresh ways to grow closer to Jesus!
DAILY BIBLE READING PLANS:
THE BIBLE RECAP with Tara Leigh Cobble
If you want a daily reading, I used The Bible Recap (with Tara Leigh Cobble) this year. It is a reading plan that takes you through the entire Bible chronologically in one year. Y'all, I have been reading the Bible for over 30 years, and this was seriously transformative! This plan is definitely a time commitment though, so you will need to be prepared for that in advance.
There are multiple ways to participate:
Print out the reading plan and keep it in your Bible, checking off the days as you go.
There is also an actual book you can buy that contains the daily readings.
Or you can follow The Bible Recap plan in the Bible app (which is a great option especially if you prefer to listen to the daily Scripture passages while driving, exercising, cleaning, etc).
Additionally, you can subscribe to The Bible Recap podcast, which gives about a seven-minute commentary each day with solid Biblical and historical context and insights. Tara Leigh does a great job of sharing general background information without leaning in a particular theological direction, which I appreciate and found so helpful in remaining true to the text.
You can do it by yourself or with a group, or even join her online community. I think she actually has small group resources to go along with it also, as well as tons of additional resources on her website in the podcast show notes.
NEW TESTAMENT PLAN (BIBLE.COM)
If you are looking for a Bible reading plan, but aren't sure you can commit to reading through the entire Bible in a year, you may want to consider the New Testament plan on Bible.com. It is a little less time-intensive, but will give you a great overview of the life of Jesus and the early Church. You can check it out HERE.
DAILY DEVOTIONALS:
If you want something a little less time consuming but still with a daily reading, here are a few devotional books I recommend:
New Morning Mercies by Paul David Tripp. (This one is solid and deep; Men will love this one, too!)
My Utmost for His Highest by Oswald Chambers. (An oldie but goodie!)
Find Joy by Shaunti Feldhahn.
Time to Thrive: A Busy Woman's Devotional Journal by Marva A. Smith. (This devotional journal by my friend, Marva, is not super deep spiritually, but is an excellent resource for helping you focus your heart on the Lord and direct your time accordingly.)
Check out my friend, Mariel Davenport's resources HERE. She has some great Bible Studies with short daily Scripture readings, as well as an ongoing on-line community for extra support and teaching. And her TEND method is perfect for someone who is a new Christian or feels overwhelmed with where to start in studying the Bible. I will be participating in her Jonah study beginning January 4, 2022 and would love for you to join me!
DEVOTIONAL BOOKS & BIBLE STUDIES
If you are open to books that you can just read part of each day or weekly, I love all of Jen Wilkins studies, but my fave to start with is
Just make sure you are in the Word in 2022~
There are so many other great resources out there, but at least this gives you a place to start! Regardless, I hope that you will be intentional next year about getting in God's Word. Stay tuned for some of my favorite recommendations on Devotionals for Teens.
Are you looking for a way to pray Scripture over your teens and college students? Then check out this 31 Day Resource I created to help you!
I'm curious… have you used any of these devotionals? Are there others you would recommend? Let me know in the comments or on Social Media. I'd love to hear from you!