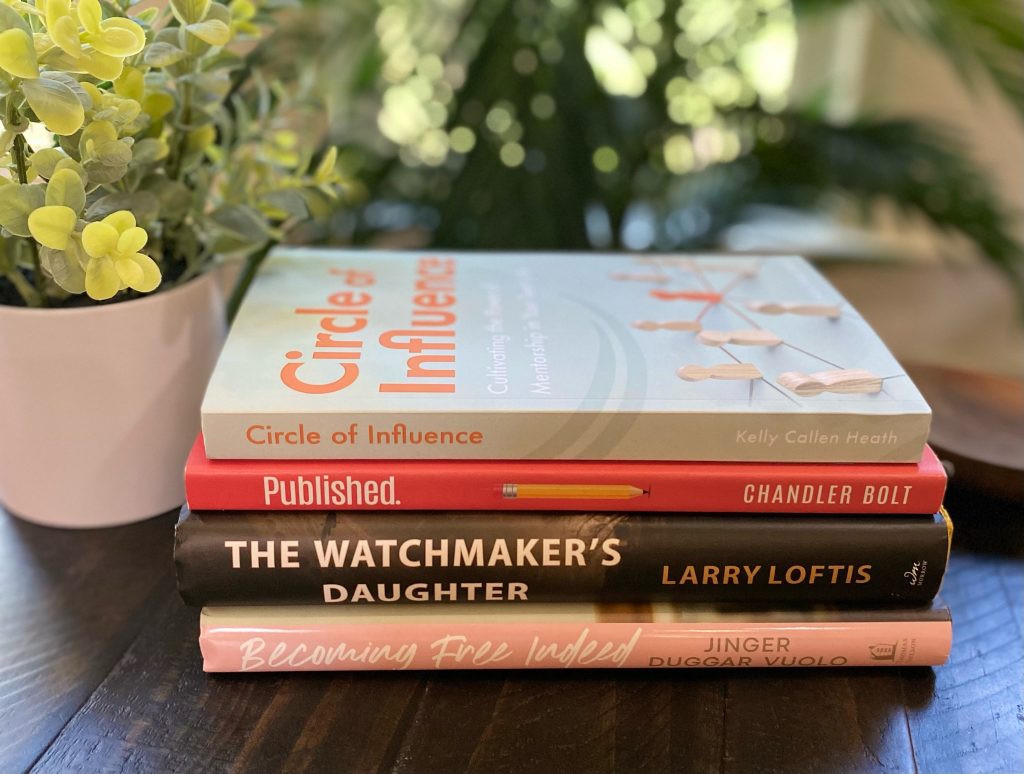 Well, friends, now that my "book baby" has been written, edited, published, and launched into the world, it is time to get back into my normal writing rhythm. And with that comes the long-awaited resumption of my book stacks!
I just realized I haven't reviewed or shared ANY of the books I've read this year. Rather than try to organize them by month, I am going to do a few category posts to catch up and then hopefully I will get back to sharing my monthly book stack.
Let's start with the most recent non-fiction books I read over the past few months.
Published by Chandler Bolt
I received this book last November when I attended the Hope*writers' Conference in Charlotte, NC. Knowing I would soon be self-publishing my first book, I set it aside to read as I got closer to the actual publishing process. Published is packed with helpful tips and suggestions for writing, publishing, and launching a book into the world! 
Since I had already written my book, I mostly skimmed the first three chapters, but the content was consistent with what I learned from my writing community and coach. The second half of the book was immensely helpful for someone walking through the self-publishing process for the first time. The information was well organized, the format was easy to understand, and the author utilized graphics and checklists to make it easy for the reader to implement the ideas.
Overall, I found this book extremely beneficial to my publishing process and highly recommend it for self-publishing authors.
The Watchmaker's Daughter by Larry Loftis
Anyone who is familiar with Corrie Ten Boom's life can't help but be inspired. In The Watchmaker's Daughter, Larry Loftis tells the true story of the Ten Boom family during World War II, with a specific focus on Corrie. While this book is filled with true tales and descriptive accounts of the people and events Corrie encountered, it definitely reads more biographical in nature rather than like a historical fiction novel (which, of course, it isn't). Still, it was enjoyable, easy to read, and kept me coming back for me, even though I already knew how the story ends. 
Because history is so quickly forgotten and easily changed, it is imperative for us to read accounts such as these and share them with our children! All throughout the book I found myself shaking my head at the shallowness of my own faith. The things I complain about, the activities I prioritize, the situations that make me questions God's goodness… seriously? It is helpful to receive a dose of reality every once in awhile, and this book was that for me. Corrie's perspective on what it means to follow Jesus and how that played out so generously in her life of suffering and hardship will continue to guide me as I seek to live out my faith in a manner worthy of my calling (Ephesians 4). This is a must-read!
Becoming Free Indeed by Jinger Duggar Vuolo
Because we were a homeschooling family, I often watched the Duggars with our then pre-teen daughters. In fact, one of their secret talents is being able to rattle off all 19 of the Duggar children's names in order like they did at the beginning of the show! While we did not embrace a lot of how their family lived, it was nice to offer our girls something to counter the current hyper-sexual Kardashian culture. The unfolding of later events with the Duggars created great conversation in our family as we discussed possibilities of cause and effect, the nature of sin, how bad things grow in the dark, etc.
Jinger Duggar was always a favorite with my girls, so I was looking forward to reading this book. Staying true to her nature, Becoming Free Indeed is not a "Jinger tells all" tabloid or a mode of bashing her parents and the way she was raised. Instead, it is a thoughtful reflection on the faulty theology and man-made philosophy (particularly one man, Bill Gothard) that shaped her parent's religion and ultimately her upbringing. 
Jinger offers her story as an alternative for young adults who are tempted to deconstruct their faith. She shows great spiritual and emotional maturity in not throwing out the baby with the bathwater, as the saying goes. Using the term "disentangle," she describes her process of separating out what she was taught growing up from what the Bible actually says. Through the influence of caring, godly relationships, she was able to carefully study the Scripture and glean the true nature of our loving, holy God, which freed her from the legalism that surrounded her family of origin. Clinging to these foundational truths has enabled her to heal, respond graciously to her family, and embrace a biblical balance of grace and truth.
I definitely recommend this book to anyone who was impacted by the teaching of Bill Gothard or a similar "religious" figure or who is in the midst of deconstructing their faith. Jinger is a wise, vulnerable, gracious guide for your journey.
Circle of Influence (by me!)
Well, I'm pretty sure y'all already know what I think of this book, lol!  Circle of Influence is based on a biblical principle of mentoring that greatly shaped who I am and that I believe has the power to transform lives. While it was written for parents of teens and those who work with teenagers, the message is applicable across the board to other life stages and environments. 
Since my review would obviously be biased (wink-wink), if you're interested in knowing what others are saying about Circle of Influence, you can check out the Amazon reviews HERE.
That's it, friends! I hope you find these reviews helpful and decide to check out some of these books (particularly that last one, haha!). Stay tuned for another book stack shortly. In the meantime, I am always looking for recommendations!
What's on your nightstand?